Custom Rubber Seals
With over 50 years' experience in the rubber industry, Seals Direct is a leading supplier in custom solid and sponge rubber seals, trims and gaskets. We offer an extensive range of rubber materials in a range of grades and specifications.
British Manufacturers of Custom Rubber Seals
Rubber seals are used in most industries to provide a watertight seal and prevent water ingress. Should your sealing requirements not be met by a standard section, it is often necessary to design and manufacture a seal custom to your requirements. Our reputation for manufacturing rubber seals, trims and gaskets has given us an excellent understanding in providing long lasting sealing solutions for our customers.
Our team has extensive experience in the rubber sealing industry and has developed excellent relationships with rubber production departments and compounders. This enables us to select the correct manufacturing process for your rubber product, whether extruded, moulded or cut. We are able to produce small batch quantities or large production runs, with low-cost tooling and quick delivery times. All of our custom rubber seals are manufactured within the UK using high quality rubber material compounds. This gives us complete quality control and enables us to manufacture your seal or gasket in a timely manner.
Using an existing sample or dimension drawing our manufacturing capabilities allow us to extrude an exact replica in a range of sponge rubber and solid rubber materials. As rubber seals are used for a range of different applications, our team can advise on the best material taking into account any chemical or environmental factors the seal will be subjected to. Most rubber materials are available in a selection of hardnesses, densities and colours to suit the desired application.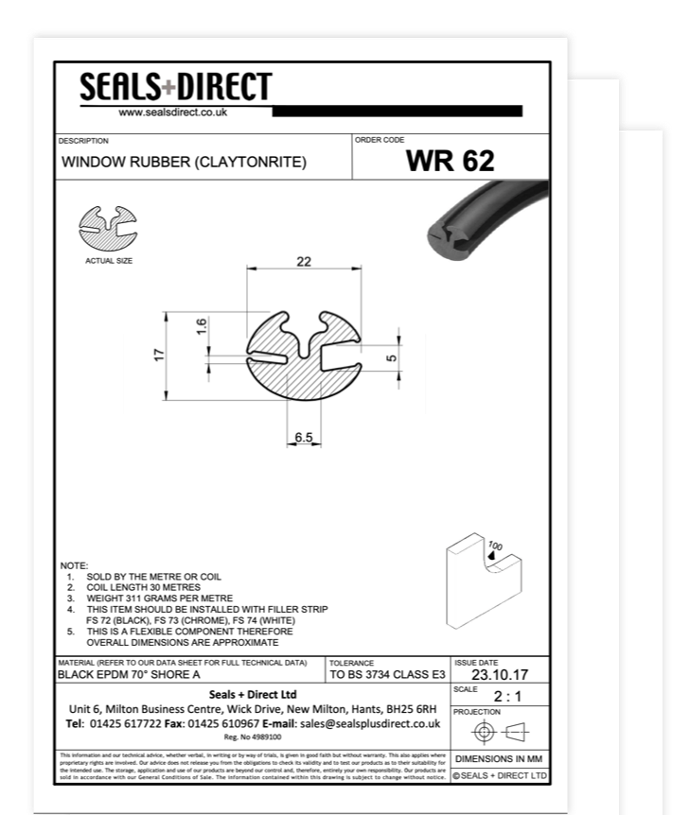 Seal Design Service

We offer a custom rubber seal design service if your sealing requirements cannot be met by one of our standard sections. Using our 3D CAD facilities, our team is able to work with you to design and manufacture the best sealing solution for your project. If you do not have a sample or technical dimensioned drawing, our Design Engineers can design a custom solution based on your requirements.
Our Rubber Seal Manufacturing Process

The process for manufacturing custom rubber seals is quick, easy and comes at a comparatively low cost. Using an existing sample or technical dimensioned drawing, we are able to extrude an exact replica of your current seal in a range of materials. We work with a substantial range of rubber and plastic compounds, including ​EPDM​, ​Natural Rubber​, ​Neoprene​, ​Nitrile​, ​Silicone ​and ​PVC​ to provide a selection which allows us to choose the best material for the desired application.
With custom rubber seal extrusions, the manufacturing process starts with our specialist toolmaker who turns your sample or drawing into a tool which can be used in our rubber extruders. This tool is unique to your section and allows us to extrude an exact replica in your chosen material. The extrusion process pushes raw rubber compound through the tool which, along with temperature and pressure, extrudes the required shape. Depending on the type of seal, the section is then cured and hardened via a continuous vulcanising line, steam line, salt bath or autoclave cure.
Once we have created the extrusion tool, we have the option to go straight to bulk production or manufacture a small number of trial lengths for testing purposes. This process is useful for large production runs where you want to check how the seal performs before moving to bulk production. Production runs for custom rubber seal extrusions can be as low as 30 metres and are normally fulfilled within two to three weeks, depending on the complexity of the profile.
Custom Rubber Seal Finishing Options
Whilst the majority of custom rubber seals are manufactured in linear lengths using a very similar procedure, there are situations where your sealing solution requires additional non-standard processes. We are able to offer a range of additional services suited to your budget and timeframe. Our manufacturing facilities include cutting set lengths, colour matching and various finishing options such as drilling and self-adhesive backing. However, should your requirements not be met by a standard process, we are able to work with you in the testing and development of non-standard sealing solutions.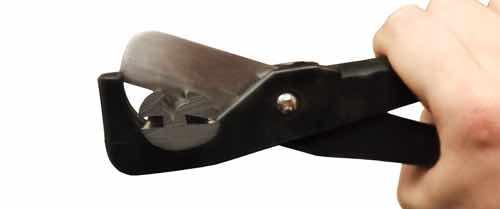 Cut Lengths
Rubber seals are normally extruded in coiled lengths between 20 to 50 metres. This allows you to cut the seal to your exact requirements during installation. However, it is sometimes preferable for the seal to be cut to a set length during the manufacturing process. Our cutting machines allow us to cut lengths to your precise requirements for ease and speed of installation by your engineers.
Depending on the section and type of material, we work to E1, E2 and E3 tolerances to provide an accurate and precise cut length.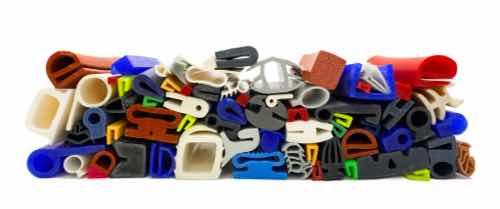 Colour Matching
Whilst most rubber seals are manufactured using colours natural to the underlying rubber compound, certain materials such as silicone and PVC can be extruded in a large selection of colours. We are able to take the colour from an existing seal or RAL colour number, and extrude a custom rubber seal which matches this colour specification. This is particularly useful for instances where you need to match your companies branding, use colours easy to identify within a food manufacturing environment or need a vibrant colour safety and hazard identification.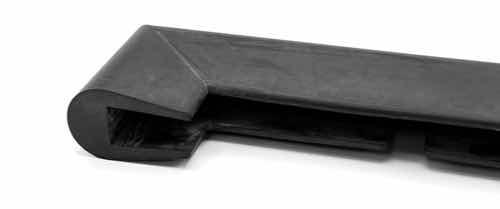 Joining

Although most custom rubber seals are manufactured with the same profile along the entire linear length, it is sometimes necessary to join multiple different shaped profiles together. To do this, we use hot film vulcanisation which uses a combination of heat and pressure to join the ends together. We are also able to cut, mitre and join a rubber profile to make frames with pre-set corners. This process is called injection moulding which works by injecting the rubber compound at very high pressures into a custom designed mould. The combination of pressure and temperature vulcanises the rubber to create a seamless strong bond.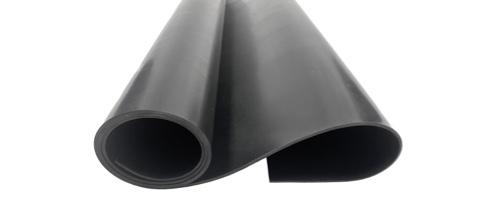 Material Specifications

Most rubber seals are manufactured from standard commercial grade rubber compounds which allow us to produce a high quality sealing solution at a relatively low cost. However, depending on the underlying material we are able to manufacture custom rubber seals compliant with British Standard specifications, such as BS2052 and BS2751. We can also manufacture seals from fire retardant compounds for rail and transportation applications where rubber seals require low smoke and toxicity characteristics. We also offer a range of metal detectable and FDA approved food grade materials to help with contamination identification within food and drink environments.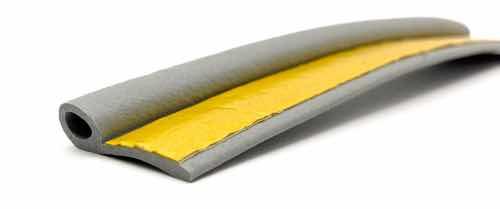 Self-Adhesive Backing

During installation, it is normally necessary to bond the rubber seal onto the surface to hold it firmly in place. This is usually done at the time of installation using a separate adhesive or sealant. However, it is sometimes preferable for a self-adhesive backing to be pre-applied to the seal during manufacturing to speed up and simplify the installation process.
We offer a range of high-quality peelable adhesives, such as UHB, VBH and scrim tape backings. These can be applied to most flat surfaces on sponge and solid custom rubber seals.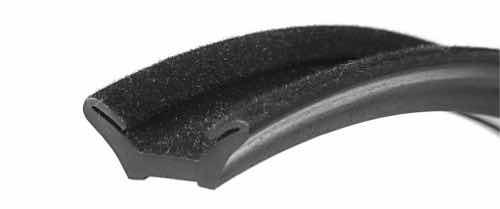 Flocked Coating

Rubber seals are commonly used around sliding windows and panels. These seals are typically covered in a flocked coating to allow the glass or panel to slide within the channel. Unlike standard rubber products, this nylon velvet-like material allows the window to glide with low friction or rubbing. Without this, you will experience 'sticksion' where the rubber will initially stick to the glass and require force to get it to move. This flocked coating can be applied during the manufacturing process to provide a seal suitable for these applications.
Custom Rubber Seals & Extrusions

Custom rubber seals can be extruded to virtually any shape in any material in an extensive range of hardnesses and colours. Different profiles are suitable for different applications and choosing the correct shaped seal can often be a complicated process.
Whilst this selection provides a comprehensive range of custom rubber seals, we are able to extrude seals in any shape and size. Get in touch to discuss the best sealing solution for your project.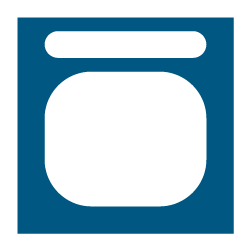 Gaskets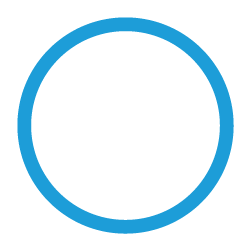 O Rings

Looking for something else?
We can manufacture any shape profile in most rubber material compounds. Contact us for a bespoke quotation.
Contact Us With Your Requirements

With over 50 years' experience within the rubber seal industry, our team has extensive experience in identifying the best rubber seals, trims and gaskets for our customers. We are able to work with you to find the best sealing solution for your project.
Complete the form below for a no-obligation free quote. Once received our team will look into whether your requirements can be met by an off-the-shelf product or provide a quotation for a custom made solution. Please include details of the seal, including dimensions, materials, hardness and how many metres you require.