Custom Self-Adhesive Sponge Strip
Manufactured to order from expanded sponge materials in a selection of thicknesses and densities.

Self-adhesive sponge strip, also known as sponge tape, can be cut to any width and thickness. This product is manufactured from ​closed-cell sponge materials​ so can be used to create watertight seals on hatches, lockers, doors, enclosures and cabinets.
Although we regularly cut our sponge strip from a Neoprene and EPDM blend, we can also manufacture this product from Silicone, PVC, Nitrile and Polyethylene. With sponge seals, these materials are often blended together to create hybrid compounds with increased resistance properties or lower production costs. For example, we like to manufacture sponge seals that will be used in oil based environments from a Nitrile and PVC blend. We also have access to special grades of rubber compounds that have flame retardant or conductive properties.
We use two different types of adhesive backing; acrylic scrim tape and hot melt. Acrylic scrim tape sticks to the underlying surface straight away but takes around 24 hours to fully adhere. This compares to our hot melt adhesive which fully adheres to the substrate almost instantly. Whilst these adhesive backings are suitable for light contact with water, they should not be fully submerged for long periods of time. If there is a large amount of moisture or water present, we recommend using our plain Custom Sponge Rubber Strip and a separate high-quality waterproof contact adhesive.
In addition to our range of off-the-shelf sizes, adhesive sponge strip can be manufactured to your specific width and thickness requirements. Please contact us with your specification.
Material & Dimensions

We are able to cut our adhesive backed sponge tape to any width and thickness to suit your projects specification. To enable us to quote and look into whether your requirements can be met by an off-the-shelf or custom section, we require the following information. The minimum order quantity for custom sponge tape is based on the thickness of the section.
A: Thickness
B: Width
C: Material
D: Type of Self Adhesive Backing
E: Density (if known)
F: Number of Metres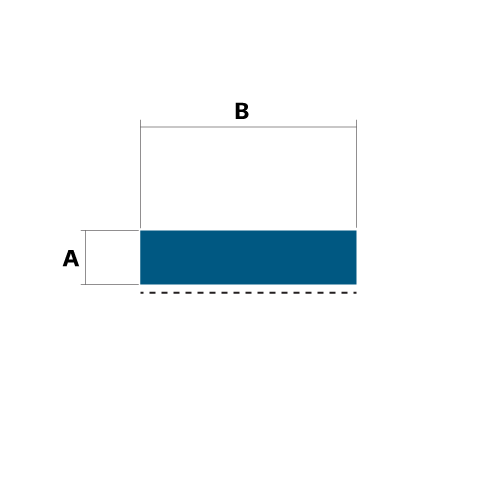 Self-Adhesive Sponge Strip Manufacturing Process

The manufacturing process starts by selecting a material suitable for your application. Our extensive range of expanded sponge rubber compounds allows you to choose a material that will be suitable for any environmental, chemical or temperature demands of your project. Our range of compounds includes Neoprene, EPDM, Silicone, PVC, Nitrile and Polyethylene. These are closed-cell materials so will not absorb water.
Once we have selected a suitable material, we start by horizontally cutting a large block of rubber to the required thickness. This process creates 1 metre wide by 2 metre long sheets which are joined together to create a longer 6 metre length. It is at this stage that we apply either the acrylic scrim tape or hot melt adhesive backing. This length is then carefully rolled into a 'log' and cut to create rolls of sponge tape to a specific width and thickness.
Orders for self-adhesive sponge rubber strip are normally fulfilled within one to two weeks, depending on the chosen material and quantity. Our fleet of cutting machines allows us to cut strip from either a whole log or part of a log. This allows us to cut custom sizes with a low minimum order quantity but also enables us to offer a lower price for large production runs.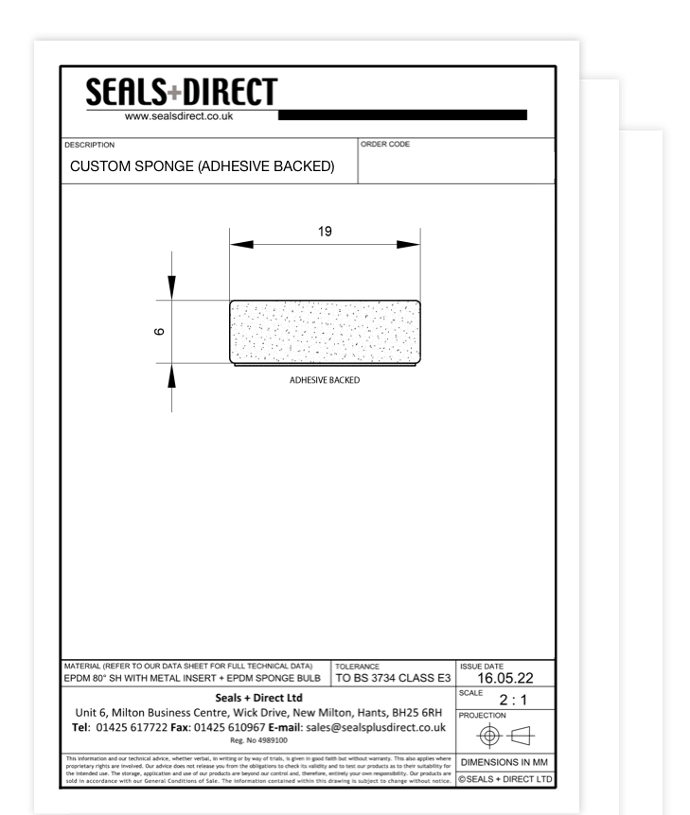 Seal Design Service


Our CAD facilities allow us to work with you in designing the best sealing solution for your project. If your sealing requirements cannot be met by a standard section and you do not have a sample or technical dimensioned drawing, our Design Engineers can design a custom solution to your requirements.
Off-The-Shelf Sponge Tape

We stock a large selection of adhesive backed sponge strip in a variety of widths and thicknesses. Most of these products are available in 6 metre rolls so can be purchased in almost any quantity to suit your projects demands. We hold extensive stock of most sizes and can dispatch your order on a next working day courier from our Hampshire based warehouse.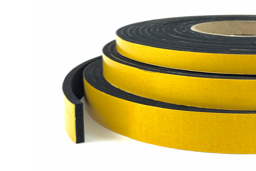 Our self-adhesive sponge strip is an expanded Neoprene / EPDM blend. This combination reduces the material cost but increases UV stability and chemical resistance. This product is available in 6 metre rolls in a selection of widths and thicknesses.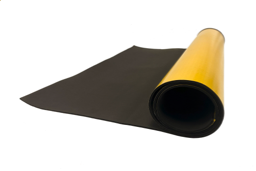 Expanded Neoprene and EPDM sheet is available in 2 metre by 1 metre rolls and has an acrylic scrim tape adhesive backing. It is ideal for making custom sized gaskets or cutting irregular strips and shapes.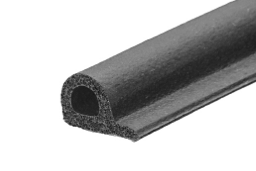 Expanded Neoprene and EPDM sheet is available in 2 metre by 1 metre rolls and has an acrylic scrim tape adhesive backing. It is ideal for making custom sized gaskets or cutting irregular strips and shapes. ​

Other Custom Rubber Seals
Rubber seals can be extruded in virtually any shape in most rubber compounds. Different profiles are suitable for different applications and selecting the correct shape, material and hardness is essential to ensure a long term sealing solution. Visit our Custom Rubber Seal directory to view our range of made-to-order extrusion shapes, gaskets and custom products.

Contact Us With Your Requirements

With over 50 years' experience within the rubber sealing industry, our team has extensive experience in identifying the best rubber seals, trims, and gaskets for our customers. We are able to work with you to find the best rubber sealing solution for your project.
Complete the form below for a no-obligation free quote. Once received our team will look into whether your requirements can be met by an off-the-shelf product or provide a quotation for a custom made solution. Please include details of the seal you require, including dimensions, materials, hardness, and how many metres you require.elf