Custom Combination Seal
Manufactured to order from a combination of sponge and solid materials to virtually any width and thickness.

Combination seals are comprised of multiple rubber materials. They are usually made with a solid rubber face and a sponge rubber core but it is possible for them to be manufactured from virtually any two rubber materials. The solid rubber surface increases the seals strength from vibration and ware, whilst the sponge core allows the section to compress and create a watertight seal.
Depending on the application, combination seals are manufactured with solid rubber on one or three sides. Seals manufactured with one solid rubber face are good for applications where the seal will be subjected to large amounts of vibration or fairly strong closing forces such as around engine hatches or heavy machinery. They offer a robust and long lasting sealing solution compared to sections manufactured solely from sponge rubber materials.
Combination seals with solid rubber on three faces are called Watertight Door & Hatch Seals. These sections are used on large ships, such as cruise liners, naval ships and oil tankers around their watertight doors, hatches and skylights. The skin around three sides creates a section that can withstand incredibly large compression forces when the hatch is closed.
These sections are manufactured to order based on the materials and size required. Please contact us with your specification for a custom quotation.
Material and Dimensions

Combination seals can be manufactured using virtually any two rubber materials. To enable us to provide you with a quotation, we require the following information.
A: Sponge Material Height
B: Solid Material Height
C: Width
D: Sponge Material
E: Solid Material
F: Hardness or Density
G: Number of Metres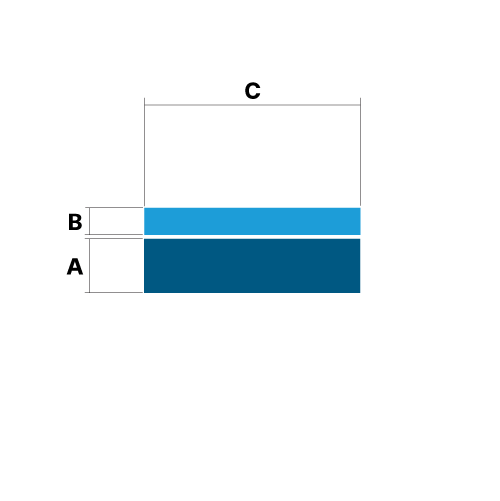 Manufacturing Custom Combination Seals
Combination seals can be manufactured using any two materials that are available in sheet form. Once we have chosen two materials that allow for any environmental, chemical or temperature demands of your project, we cut strips of each material using our industrial cutting machines.
The process for cutting Solid Rubber Strip and Sponge Rubber Strip depends on the thickness of the rubber, the accuracy of the cut and the number of metres you require. Most jobs are processed by an operator who feeds the rubber sheet through a horizontal slitting machine which cuts the sheet to the required width.
Once both of your chosen materials have been cut to the required width, we bond both surfaces together using a high quality waterproof contact adhesive. This process cold vulcanises the two materials creating a long lasting and reliable bond.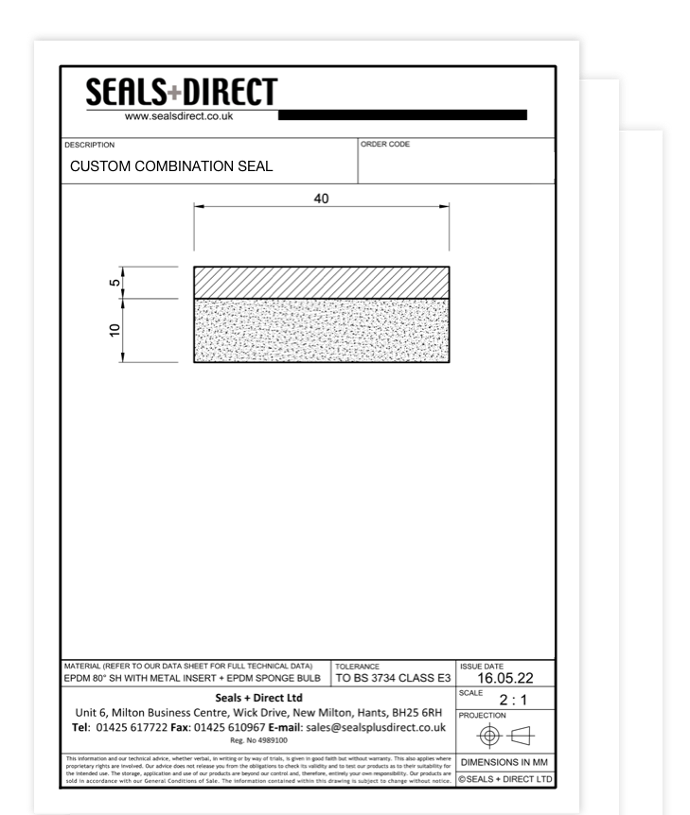 Seal Design Service


Our CAD facilities allow us to work with you in designing the best sealing solution for your project. If your sealing requirements cannot be met by a standard section and you do not have a sample or technical dimensioned drawing, our Design Engineers can design a custom solution to your requirements.
Other Custom Rubber Seals
Custom rubber seals can be extruded in virtually any shape in most rubber compounds. Different profiles are suitable for different applications and selecting the correct shape, material and hardness is essential to ensure a long term sealing solution. Visit our Custom Rubber Seal directory to view our range of made-to-order extrusion shapes, gaskets and custom products.

Contact Us With Your Requirements

With over 50 years' experience within the rubber sealing industry, our team has extensive experience in identifying the best rubber seals, trims, and gaskets for our customers. We are able to work with you to find the best rubber sealing solution for your project.
Complete the form below for a no-obligation free quote. Once received our team will look into whether your requirements can be met by an off-the-shelf product or provide a quotation for a custom made solution. Please include details of the seal you require, including dimensions, materials, hardness, and how many metres you require.