Custom Porthole Rubber Strip
Manufactured and cut to virtually any size from a high-quality natural rubber.

Porthole rubber strip can be used to seal heavy duty brass and bronze portholes and vents on boats and other marine vessels. This product is manufactured from a soft solid natural rubber that has very good recovery and can withstand high compression forces. This is particularly useful for portholes where the seal is compressed with a large degree of force by a ball nose or knife edge. When the pressure is released, natural rubber resumes to its original size without the risk of compression set.
Natural rubber is not UV stable so will start to degrade with prolonged daylight exposure. However, as the seal is enclosed in a recessed channel, it is only subjected to very small amounts of UV when the porthole is opened.
This material is only suitable for heavy duty brass and bronze apparatus. We recommend using a sponge, such as our Expanded Neoprene (Skinned on 4 Sides) to seal aluminium or plastic portholes.
Should your requirements not be met by one of our off-the-shelf pre-cut sizes, please contact us with your specification for a custom quotation.
Material and Dime​nsions

Porthole rubber strip is available from an extensive range of off-the-shelf sizes, but can also be cut to order to suit your size requirements. To enable us to look at whether your requirements can be net by a standard or custom product, we require the following information.
A: Height
B: Width
C: Number of Metres

Cutting Porthole Rubber Strip
As natural rubber has excellent recovery and elasticity, it is very difficult to cut with hand-held cutting devices. Slitting machines, similar to those used to cut other material compounds, allows us to cut strips of natural rubber from large sheets. These machines are operated by an operator who feeds the rubber sheet through a knife blade to cut the sheet to the required width. Cutting rubber using one of these machines allows us to cut multiple strips at the same time, whether they are the same or different widths.
Natural rubber strip can be cut in up to 2 metre lengths.
It is essential to ensure that the width of the section is wider than the thickness of the material. This helps ensure that the sides are straight and we avoid unintentionally cutting a trapezoidal shape. If your project requires a non-standard size or lengths loner than 2 metres, we are able to extrude natural profiles.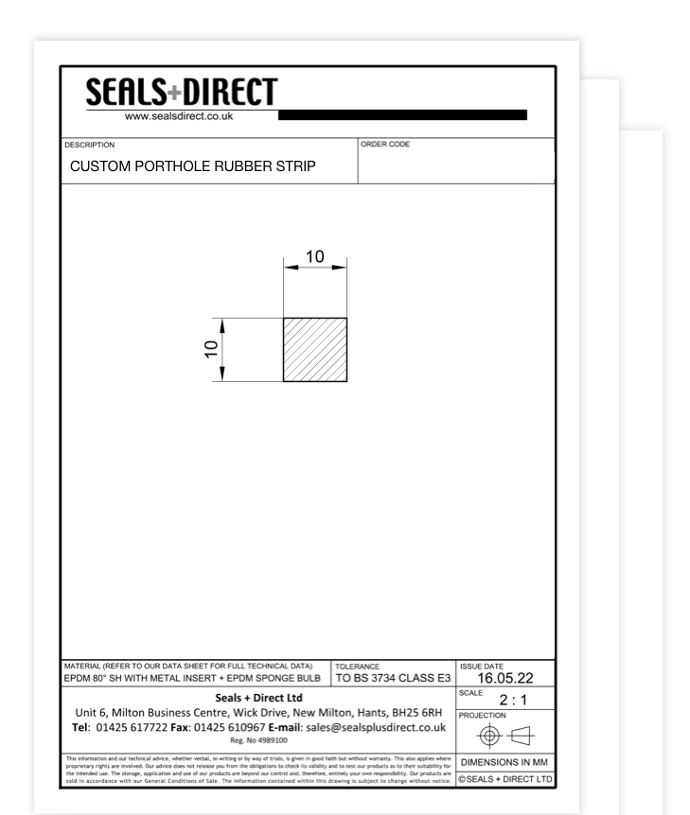 Seal Design Service


Our CAD facilities allow us to work with you in designing the best sealing solution for your project. If your sealing requirements cannot be met by a standard section and you do not have a sample or technical dimensioned drawing, our Design Engineers can design a custom solution to your requirements.
Off-The-Shelf Porthole Rubber Strip

Our off-the-shelf porthole rubber seals are available in a selection of sizes designed to fit most brass and bronze portlights. These products are normally immediately available and can be dispatched the same day on a next working day courier.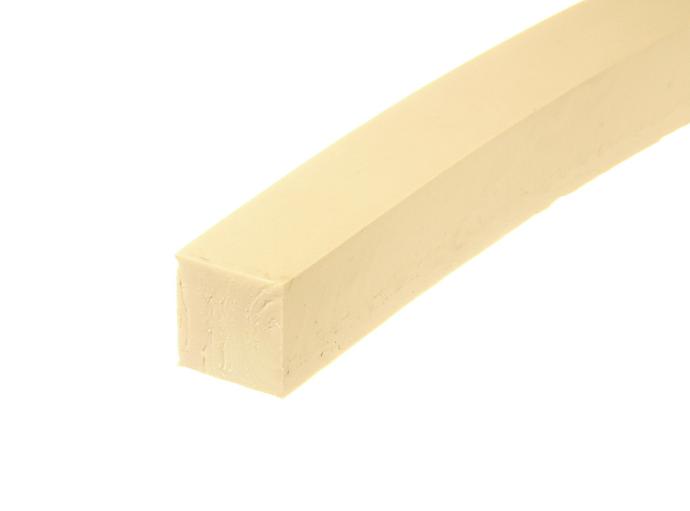 ​ Our standard sizes are designed to fit the majority of brass and bronze portlights. This product is supplied in up to 2 metre lengths.

Other Custom Rubber Seals
Custom rubber seals can be extruded in virtually any shape in most rubber compounds. Different profiles are suitable for different applications and selecting the correct shape, material and hardness is essential to ensure a long term sealing solution. Visit our Custom Rubber Seal directory to view our range of made-to-order extrusion shapes, gaskets and custom products.

Contact Us With Your Requirements

With over 50 years' experience within the rubber sealing industry, our team has extensive experience in identifying the best rubber seals, trims, and gaskets for our customers. We are able to work with you to find the best rubber sealing solution for your project.
Complete the form below for a no-obligation free quote. Once received our team will look into whether your requirements can be met by an off-the-shelf product or provide a quotation for a custom made solution. Please include details of the seal you require, including dimensions, materials, hardness, and how many metres you require.